Freiwilligenarbeit im Ausland, in Thailand und Südostasien
Reisen und lernen Sie als Freiwilliger im Ausland. 
Freiwilligenarbeit in Thailand, in Südostasien, in Schulen, Dörfern, Bergen, Meeren und Städten.
Inspirieren Sie, vermitteln Sie Englisch, IT, digitale und andere Fähigkeiten
Inspirieren Sie, bauen Sie Selbstvertrauen auf, bringen Sie den Schülern bei, online zu lernen.
Bei einer Freiwilligenarbeit im Ausland geht es darum, anderen und sich selbst zu helfen.
Eine Freiwilligenreise gibt mehr als eine normale Reise, also engagieren Sie sich ehrenamtlich bei OpenmindProjects in Thailand, Laos, Kambodscha oder Nepal.
Wem helfen wir? Wir helfen Kindern, Migranten, Minderheiten und Behinderten. Die meisten besuchen arme ländliche Schulen. Wir helfen ihnen und sie möchten, dass Sie als Freiwilliger vorbeikommen und ihnen helfen.
Wer sind wir? OpenmindProjects ist eine gemeinnützige, gemeinnützige Organisation, NGO, Nichtregierungsorganisation und mit einem Skandinavier als Mitbegründer. Wir glauben, dass Bildung der beste Weg ist, Armut zu bekämpfen. Wir glauben daran, lernen zu lernen! Wir bauen Brücken zwischen Ländern und Generationen. Wir sprechen Schwedisch, Englisch, Thailändisch, Laotisch und etwas mehr.
Wer bist du?  Bist du berufstätig, im Ruhestand, in der Familie oder Student? Sie sind alle herzlich willkommen, sich ehrenamtlich bei uns zu engagieren. Deutsche Freiwillige sind willkommen und sprechen immer gut Englisch und sind gut in IT.
Ehrenamtliche Kinder, ihr seid wichtig! Sie inspirieren die Kinder vor Ort und sind daher kostenlos willkommen!
Finden Sie Ihr Freiwilligenprojekt mit OpenmindProjects. Kontaktiere uns.
Beantragen Sie weitere Informationen. Fragen Sie uns nach Ihrem ehrenamtlichen Engagement.
Wir können uns natürlich über Google, Zoom, WhatsApp oder E-Mail unterhalten.
Alle willkommen! Sie können sich bei uns als Student, Arbeiter, mit Ihrer Familie oder als Rentner ehrenamtlich engagieren.
Arbeiten Sie, studieren Sie, sind Sie in der Familie oder im Ruhestand? Alle sind als Freiwillige herzlich willkommen.
Freiwilliger bei OpenmindProjects.
Dorfkinder, Migranten und Minderheiten besuchen schlechte Schulen. Wir und Sie helfen ihnen gemeinsam.
OpenmindProjects ist eine gemeinnützige Organisation, NGO. Wir sprechen Deutsch, Schwedisch, Englisch, Thailändisch, Laotisch und etwas mehr.
Wie können Sie als Freiwilliger helfen?
Inspirieren und lehren.  Inspirieren und erlernen Sie unsere ländlichen Kinder, Flüchtlinge, Behinderte in Englisch, IT und digitalen Fähigkeiten, über Klima und Ernährung, über die Welt!
Inspirieren Sie sie und geben Sie ihnen Selbstvertrauen bei Aktivitäten, die Spaß machen und effektiv sind!
Tragen Sie zu aktivem und unterhaltsamem Lernen bei. Wir helfen Ihnen vor und vor Ihrer Ankunft.
Zeigen Sie den Schulkindern auch, wie und was sie online lernen können, nicht zuletzt über die Welt außerhalb des Dorfes.
Bei der Freiwilligenarbeit im Ausland geht es darum, anderen zu helfen, aber eine Dienstreise gibt einem auch viel.
Englisch ist wichtig Sowohl um zu lernen als auch um einen besseren Job zu bekommen.
Sie können als Freiwilliger helfen! Internet- und digitale Kompetenzen sind wichtig Sowohl um mehr zu lernen als auch für sich selbst und um einen besseren Job zu bekommen.
Weitere Informationen in englischer Sprache finden Sie auf unserer Website. Sie können uns jederzeit gerne fragen!
Freiwillige inspirieren und tragen zu aktivem und unterhaltsamem Lernen bei.
Freiwilligenarbeit im Ausland in Aktion mit OpenmindProjects
Freiwilliger im Ausland. Unterrichten von Englisch- und Digitalkenntnissen in Thailand, Laos, Kambodscha und Nepal
Frivillig arbeid i utlandet, finn ditt frivillige prosjekt med OpenmindProjects. Lær engelsk, IT, digitale ferdigheter. Er du i arbeid, pensjonist, familie eller student? Alle er velkommen til en like interessant og givende frivillighetstid i Thailand, Laos, Kambodsja, Nepal. Dine frivillighetsmuligheter i utlandet med OpenmindProjects. Vi jobber med utdanning og som frivillig kan du bidra mye!
Unsere Freiwilligen und Spender werden gebraucht
Great job!
Trains young adults to reach their higher potential. Does a great job of enhancing the self confidence of Thai and Laos young adults. Strives to successfully improve English, Technology and Job skills for young adults. Many successful job placements after leaving OpenmindProjects.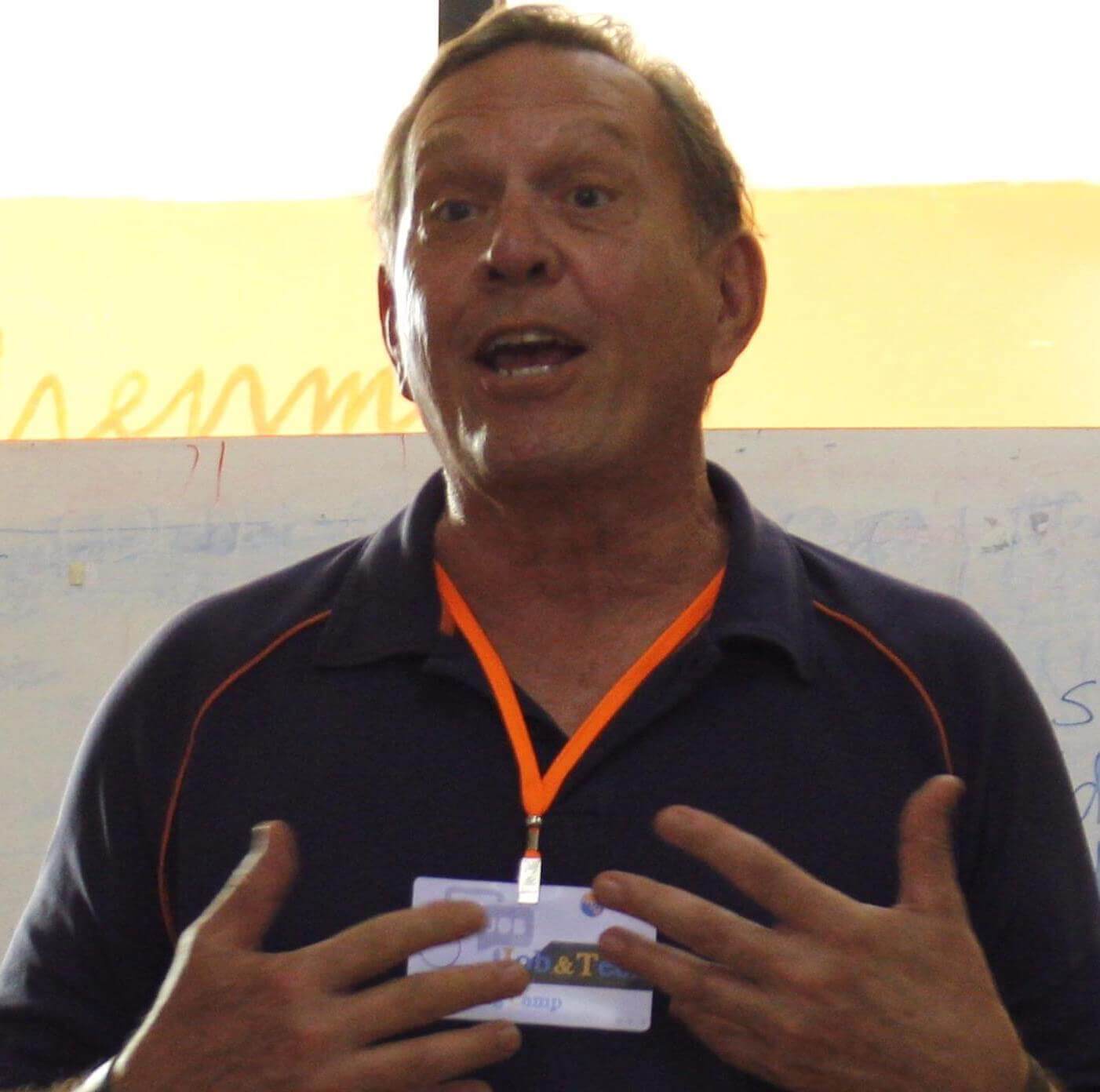 Mike Fulton from USA
Donor and Volunteer
My mind got opened and filled with inspiration, motivation and curiosity
I would like to inform you all that this nonprofit organization is where the opportunity given. No matter where we come from (Thailand, Laos, Cambodia, Myanmar, etc.) Everybody is welcomed here.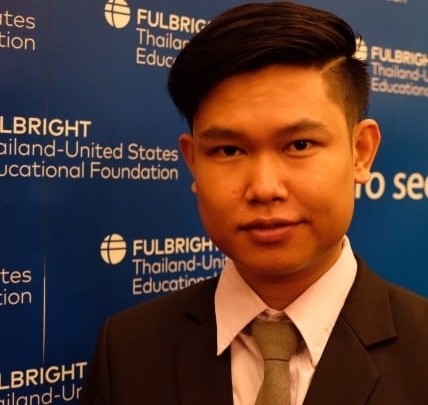 Prarinya (James) from Thailand
Camper/Alumni
Great organization and great experience!
I am waiting for the time when I'll be able to come back and see all the familiar faces again. Keep doing your great job teaching youth in South East Asia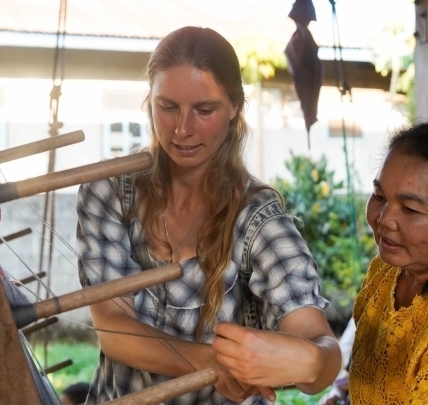 Anastasiia Panchenko from Ukrain
Volunteer and Donor
Share the same planet and the same smile!
It has been 3 consecutive years now that the family spends one week in a Lao village thanks to OpenmindProjects. Teaching, learning by doing, sharing, so emotional... we maybe haven't the same life but we share the same planet and the same smile!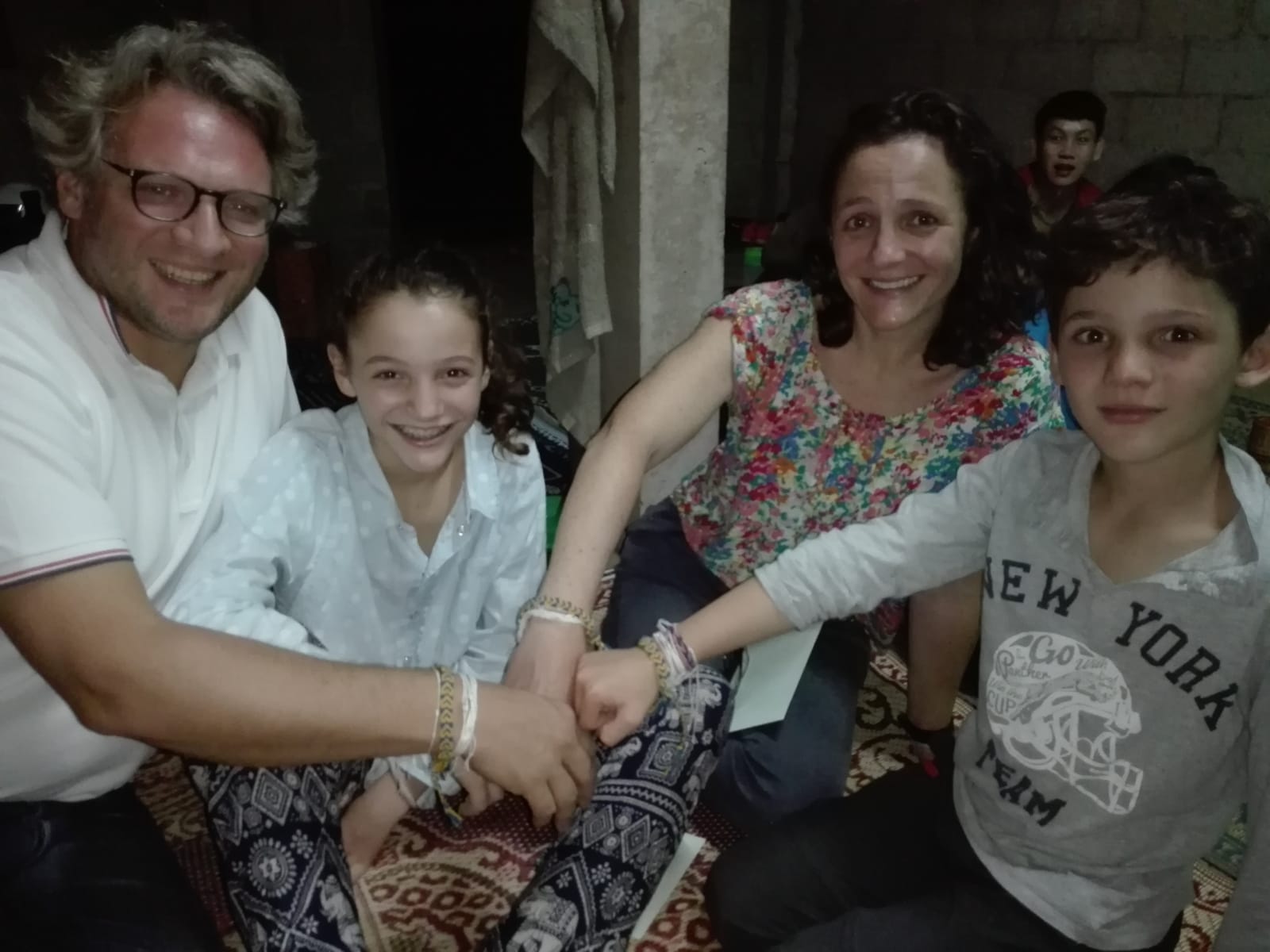 Lacoste family from France
Volunteer and Donor
I improved my self-confident
The debates make me more confident. I learn English by searching, discussing, not by heart! First, the volunteers teach me and then we have to search and find information and discuss with our friends before we present the information.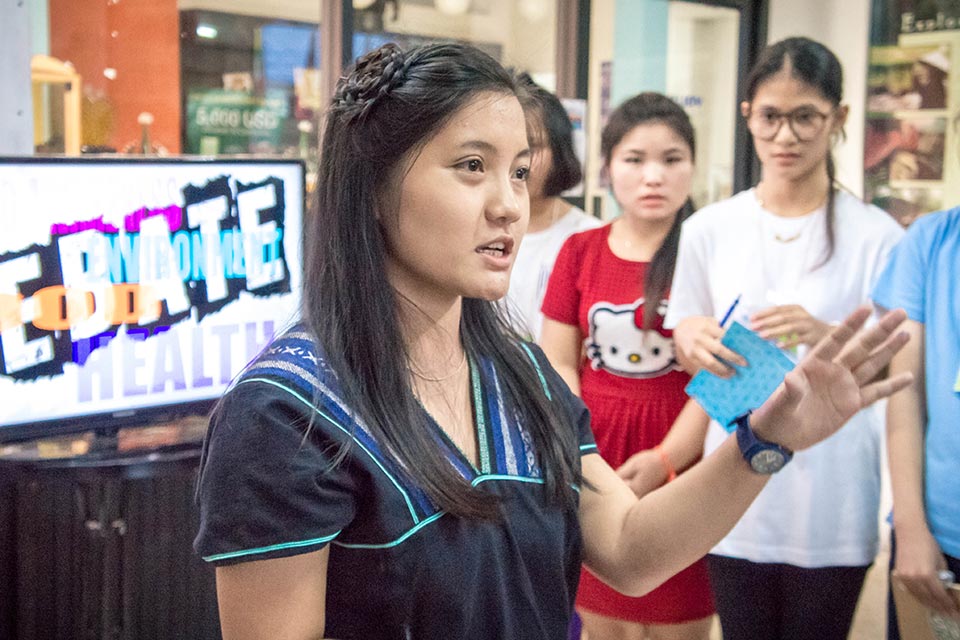 Wah Wah from Myanmar
Camper/Alumni
We providing supports and free training to local communities, villages and national parks. Invited and trained over 2,500 international volunteers to join our fields projects since 2002.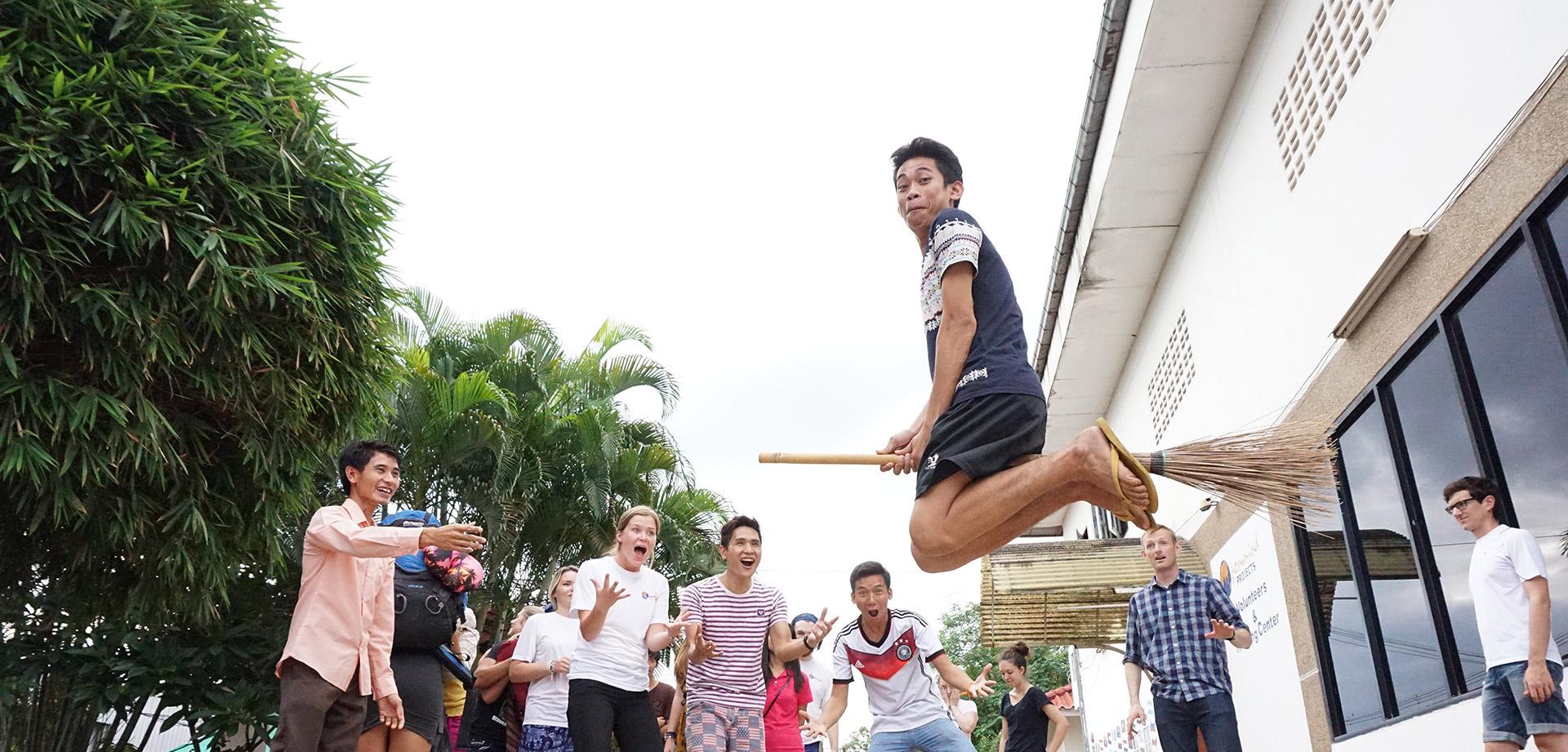 We've arranged over 80 Learning Camps for some 3,000 children.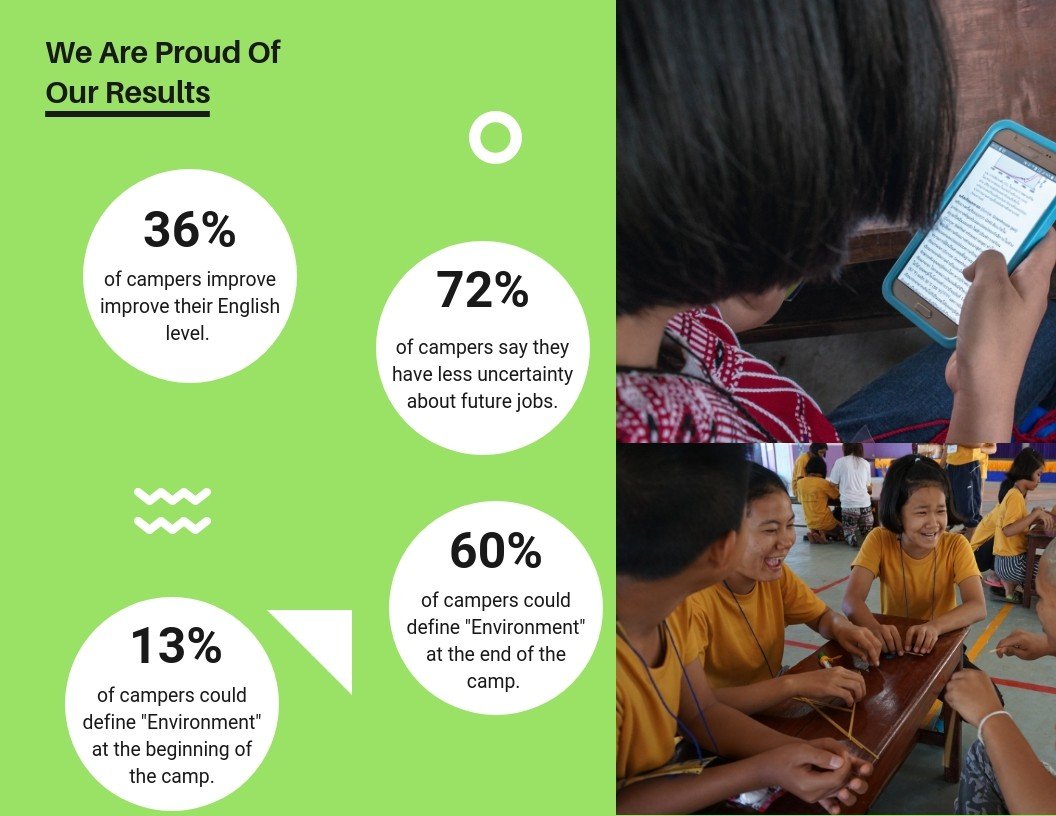 We providing scholarships and hosted more than 600 teenagers from Laos, Thailand Cambodia and Myanmar at our Center since 2004.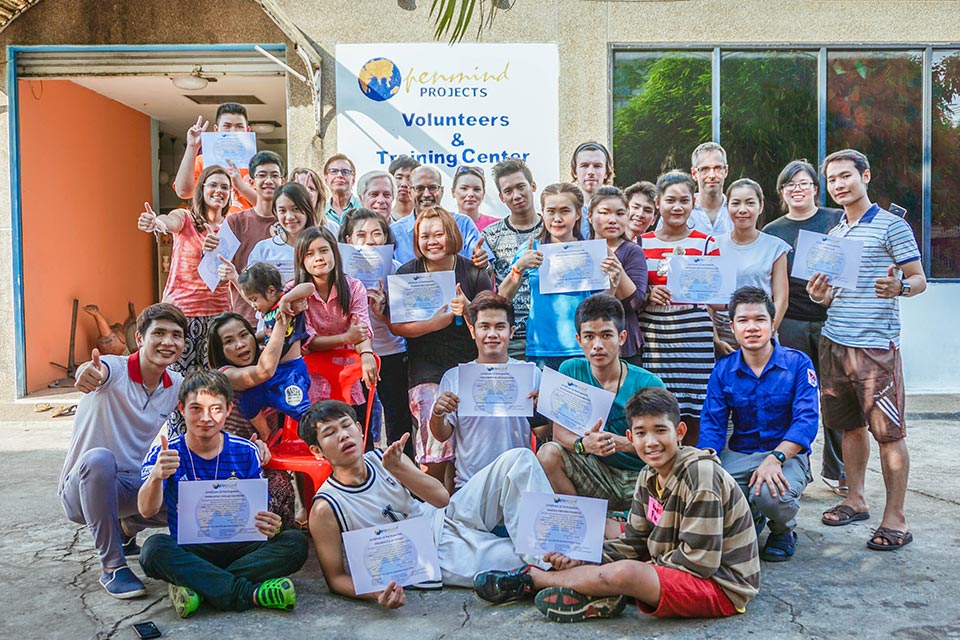 Kontaktieren Sie uns, um Rat oder Informationen einzuholen oder mit einem anderen Freiwilligen zu sprechen.
Unsere Freiwilligen unterrichten Englisch und IT und sprechen mit jungen Menschen in Schulen und in unseren Camps über die Welt und die Umwelt.
Wenn Sie IT-affin sind, helfen Sie uns bei der Entwicklung und Lehre von Programmierung oder Grafikdesign!
Andere helfen uns mit sozialen Medien. Helfen Sie uns bei der Spendensammlung, die für eine gemeinnützige Organisation so wichtig ist!