Volunteer Teach in Krabi southern Thailand
Volunteer in South Thailand. Teach English with a non-profit, charity
Teach English, IT skills to village, migrant, Muslim and Buddhist students. Help underprivileged children to a brighter future.
OpenmindProjects, a charity, non-profit, supports village and temple schools.  
Volunteers are important to complement to school education.  Help students to improve important English and IT skills.
Teach English and IT. Help young students to use internet to learn.
Learning English and IT skills helps poor youth to a better job. Tourism offers many opportunities for those with good English.
Read about  Teaching English
Watch         Teach the fun, role play way
If you have special skills, you may join other projects, environmental or health care, tell us!
NEW!
Restarted  Eco Marine project – 
teach, dive, more tasks for volunteers! Ask us!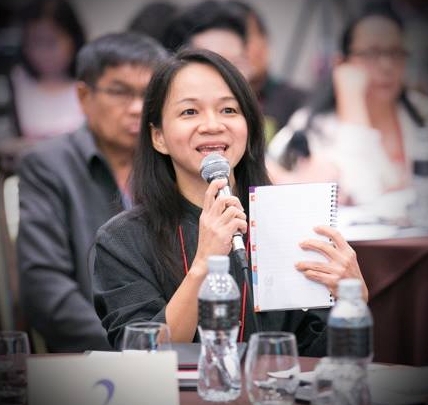 Thitichaya Boonsom
South Thailand Project Manager
Meet our Mui and learn about the South from a well known media personality in South Thailand.
Our Mui, Thitichaya, will introduce you to your volunteering, to students and teachers.
And to your free time options.  
Mui can also tell you what to do in your free time. Enjoy the beaches, sea and sky. Enjoy local sea and other South Thailand food. Mui arranges trips for volunteers and travelers to islands and villages. Visit the famous Phi Phi islands. Try an introductory dive. Maybe she invites you as an English guest speaker at the radio station. 
Visit Krabi southern Thailand, discover the South
💬 95% of the time, our search results find flights that are cheaper than Skyscanner. Don't believe us? Try it!
About volunteer teacher Thailand, by the sea
Most volunteers teach English but also IT, computer and internet searching skills. 
Help children listen and speak English, practicing in role plays.
Teach IT, online searching and combine it with English.
Help students create and share presentations.
Let the children explore the internet, discover and learn on their own.
Where do volunteer stay and eat?
You can stay at a guesthouse or with a host family.  Have lunch at the school. 
If you stay at a guesthouse, try one of the many inexpensive restaurants or eat at the local market by the sea. 
NOW, you can also volunteer and stay at a Marine Research Center
Use your free time to explore the beautiful surroundings with local friends, a great way for them to practice English!  For affordable local transport and accommodation, visit: Openmind.travel 
Visit Krabi, Southern Thailand, and volunteer with the No.1 best charity in Krabi, Southern Thailand, an award-winning nonprofit organization.
Krabi is a province in southern Thailand that is known for its stunning beaches, crystal-clear waters, and limestone cliffs. It is a popular tourist destination, but it is also home to a number of social and environmental challenges.
OpenmindProjects is an award-winning nonprofit organization that is working to address these challenges. They offer a variety of volunteer programs that allow people from all over the world to get involved and make a difference.
One of the most popular volunteer programs is the English teaching program. Volunteers teach English to children and adults in local schools and communities. This program helps to improve the education and future opportunities of the participants.
Another popular volunteer program is the IT/digital skills program. Volunteers teach IT/digital skills to children and adults in local schools and communities. This program helps to prepare participants for the workforce and helps to reduce the digital divide.
In addition to these two programs, OpenmindProjects also offers a variety of other volunteer programs, such as:
Visit the OpenmindProjects website to learn more about their volunteer programs and to apply.
Book your flight and accommodation.
Apply for a visa if required.
Pack your bags and get ready for an unforgettable experience!
Here are some tips for making the most of your volunteer experience:
Be open-minded and respectful of the local culture.
Be prepared to work hard and make a difference.
Be flexible and adaptable.
Ask questions and learn as much as you can.
Have fun and enjoy the experience!
Volunteering abroad with OpenmindProjects is a great way to visit Krabi, Southern Thailand and give back to the local community. You will gain valuable experience, learn about a new culture, and make lifelong friends.