Volunteer on your Travels in Southeast Asia
DROP IN VOLUNTEERING IN THAILAND
Take a Volunteer Break on your Travels
Corona News from Openmind Projects Volunteer Update regarding the Covid 19, Thailand, Laos effects on volunteering.
Volunteers changed our mind! Welcome to drop in, volunteer at our Center! Before we did not think you could just drop in to help! Now we know you can and its a perfect short-term volunteer opportunity for you when traveling in Southeast Asia!
Are you a backpacker, a traveling couple, family looking for a great and still budget volunteer experience? Welcome!
It is a unique and affordable opportunity to the interested and curious traveler with limited time and budget but still craving a volunteer experience.
Drop in for a Day! Learn how an NGO works to help the poor, and about local culture. Let our trainees be your guides! A chance for you to admire the giant Hindu Buddhist statues or the stolen Golden Buddha, and a chance for our trainees to practice English. Some want to be guide!
Drop in for a Week! Learn about culture and some Thai language, work with our trainees. Teach English with our trainees at a school or temple!

You have some special skills? You can help! Young George made a great leaflet for tourists in one week while his parents and brothers helped our trainees and school children. It was based on work by great volunteers Jess and Alex. They spent a short but intense time training our trainees. Adele made a great video with her boyfriend's help in just 2 weeks, about life at our Center, https://www.youtube.com/user/openmindprojects
NongKhai, the Gateway to Indochina has much to offer a traveler!
Learning about a country in a few days is not easy but you can get a quick peek into local lifestyle and culture with our people! Learn about Thai, Lao culture, cooking and enjoy eating local, spicy Thai, Lao food. Spend your time with our people and learn about the  traditions, customs of a Thai, Lao, and Isaan community. Ask them to do their 'Culture, Do's and Don'ts Show' for you.
What you can do when Dropping in to Volunteer
Work with our trainees and schoolchildren. Inspire them and make them like learning English, the least popular topic at school Help them live a healthy and hygienic life. Make a small impact in their lives. Give them hope, make them dream and learn some English!
Or leave your footprint, make a video, write a story, make a leaflet to encourage other volunteers to come to help local people, villages, schools, children.
Volunteers dedicate about 3-6  hours a day to help our young people.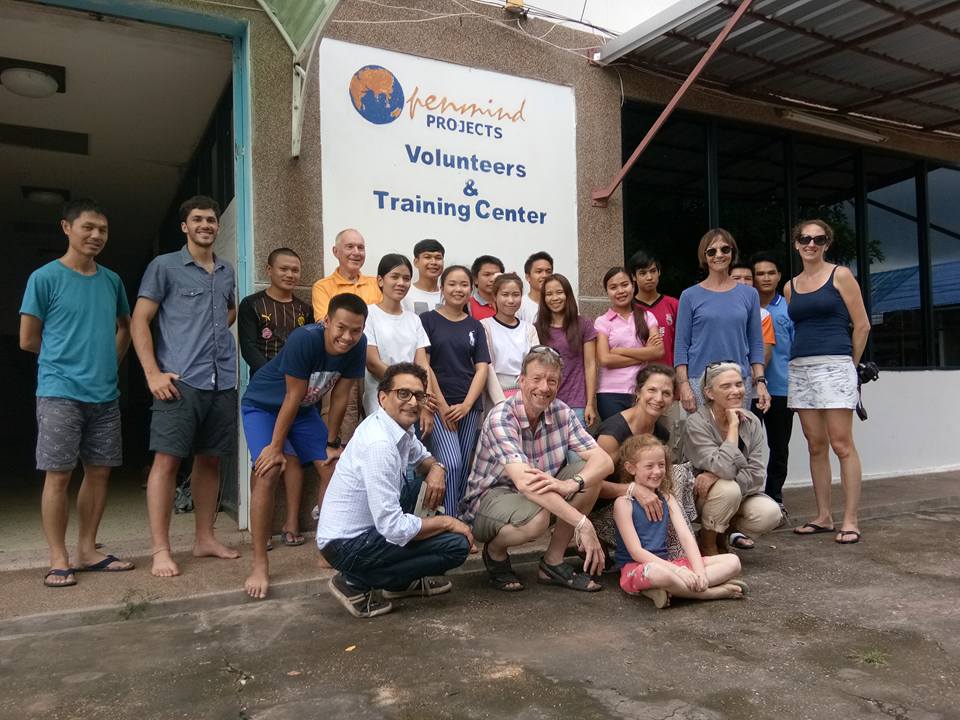 Drop In Highlights
Meet some amazing Indochinese people in Nongkhai where Thais, Laos, Vietnamese and Chinese live and work together!
Volunteer teach at a local school or temple. Team-teach with our people! Explore the amazing Sculpture Park and Golden Buddha Temple with our trainees. Let them tell you about their history and the history of these unique places, an insight into culture and living conditions for people less privileged than you.
Visit to the Nongkhai Aquarium showing the marine biodiversity of the Mekong River. Go to the Phu Wua Mountains and 'enjoy' an encounter with wild elephants or the scary rock walk around the Phu Tok Mountain if you dare!
After your volunteer break, go on traveling having added a very special experience that most travelers miss!
Before you go home, do Bangkok our way! Take an express boat up and down the river, avoid the tourist traps, hop on, and hop off as you wish at a cost a fraction of the tourist boats.  Walk the empty Phang Nga Beach north of Phuket, with a bit of luck spot a rare leatherback turtle!
We can  give you many tips on what to explore away from the tourist areas when you drop in!
Drop in, Hop in, Hop off! Travel and Volunteer