About Volunteering in Thailand with an NGO
Our mission is helping underprivileged people. Religion is private. A volunteer trip with us will take you to the heart of Indochina, Isaan, the poor North East of Thailand. People speak Lao, not Thai here. Or visit South Thailand where Buddhists and Muslims live together in harmony. Or volunteer in the Thai Myanmar Mountains, helping ethnic minorities, migrants and refugees.
Corona News from Openmind Projects Volunteer Update regarding the Covid 19, Thailand, Laos effects on volunteering.
 We are on Mission with Volunteers in Thailand
We help children and adults in villages, communities, national parks, our Learning Camps and our Training Center in Northeast Thailand. Teach English, IT, computer skills, using the Internet, or support local entrepreneurs, village women and eco-tourism projects. Alternatively, help us with web design and other developments. You tell us who you are! We will tell you how you can help.
Prepare your volunteer trip with free Volunteer Training before you start your volunteer mission! At our Center, you will learn about Thailand and South East Asia culture, language and teaching. Prepare for a successful volunteer mission to help people.
Enjoy the fascinating cultures and amazing nature of Thailand. Experience village life, busy cities, blue seas, stunning islands, remote mountains and jungles. Our volunteers get to immerse themselves in local life and to explore the unseen Thailand off the beaten tourist tracks. You are welcome to ask us about special opportunities for families, students, groups, friends, couples or experts! Low volunteer costs because we are a nonprofit NGO, not-for-profit agency.
Volunteer Mission Trips and Opportunities in Thailand
Volunteer Facts about Northeast Thailand, Isaan, the Heart of Indochina
Isaan, comprising one third of Thailand, with predominantly ethnic Laos people, is one of the poorest regions in Thailand. Villagers don't receive a good education and often end up in low-paid jobs elsewhere. Openmind Projects started here, in 2001 as www.ITinIsaan.org, a project to help village children. This is where we have our Training Center for village youth.
Learn more about the Northeast, Isan 
Volunteer Facts about Western Thailand and its Ethnic Minorities, Migrants and Refugees
The mountains by the Myanmar border in West Thailand is home to many ethnic groups. The poverty rate is very high here – over sixty per cent. Refugees and migrants from Myanmar, stateless people, have limited rights and access to education. Volunteers willing to make the extra effort can help Karen, Burmese, refugee and migrant children. Learn more about Western Thailand
Volunteer Facts about South Thailand
Tourism in Thailand has been booming for many years. The exploitation of the beaches and sea causes pollution and endangers marine life. Local Muslim and Buddhist people work and live together without any conflicts. The gap between the owners of the tourism business and the workers in the industry is however huge. Thailand is according to Credit Suisse the most unequal country in the world. Volunteers can work in schools, villages or marine national parks, depending on the season.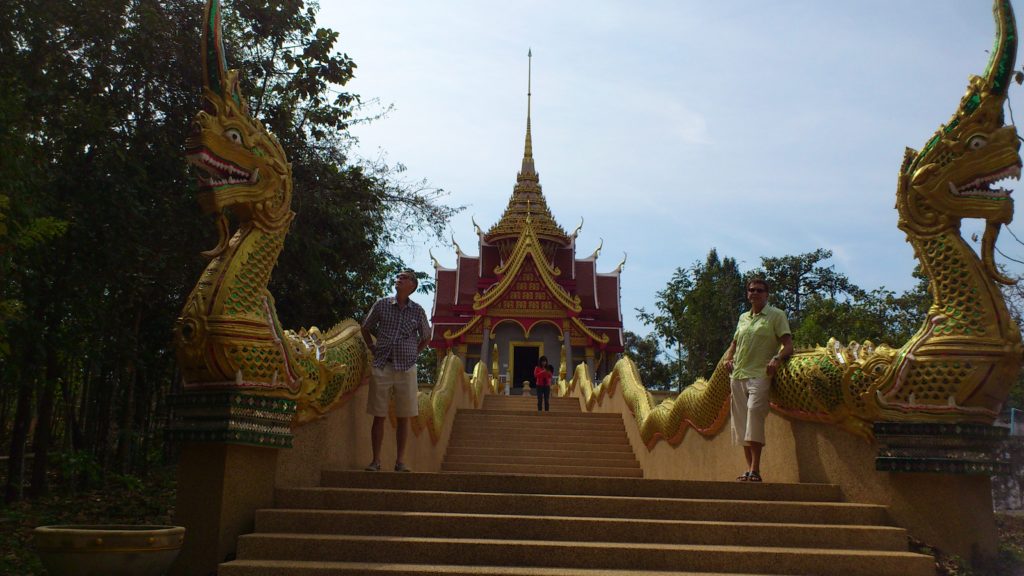 More Facts about Thailand 
Thailand is the only country in Southeast Asia that was never colonized, for which they are very proud! Over 35 million visitors come to Thailand each year. Almost all go to Bangkok, Chiang Mai and the beaches. Few go to the poor Northeast or Burmese border mountains.
Thailand is home to one of the world's largest snakes. And in the Northeast the Naga snake or dragon, who knows, protects Buddha and the temples!
Thailand is known as 'The Land Of Smiles', but do you understand the smiles? Volunteers who come for our free volunteer introduction at Openmind Projects Center will learn! 
The gigantic statues at the Sala Keow Khu in Nongkhai are a must-see sight, unique in Asia.
One-tenth of animal species are found in Thailand, especially around the Mekong River. Over 1,500 orchid species are found in Thailand. 
Openmind Projects volunteers learn much more at the Free Volunteer Training Days.
More facts and information on the Blog Section. 
For more facts about travel to Thailand, go to Volunteer Travel Guide and for more facts about volunteer life go to Volunteer Life Thailand.