Donate and support our projects
Help us restart after three pandemic years.
Your Donation will help
Your donation goes to help restart our projects, learning camps and field projects.  
How does it work?
Every purchase you make using CouponBirds coupons and deals could raise money for Openmind Projects Foundation and for future.
Brave
Rewards​
Sending tips in Brave Reward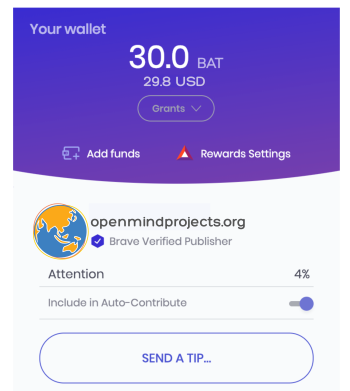 How does it work?
Brave Rewards allows users to tip sites and content providers using BAT directly in the browser. Tips can be sent directly as a one-time payment or set up on a recurring schedule every month. These donations differ from your monthly Auto-Contribution budget even though they are are pulled from the same Wallet.
The tipping system was designed to make supporting content creators a simple and painless process. To tip a website or content creator:
Launch Brave browser and navigate to a web page you'd like to support
Click the Rewards icon on the right-hand side of the address bar to
reveal the Rewards Panel
IMPACT REPORT
Read our yearly impact reports.